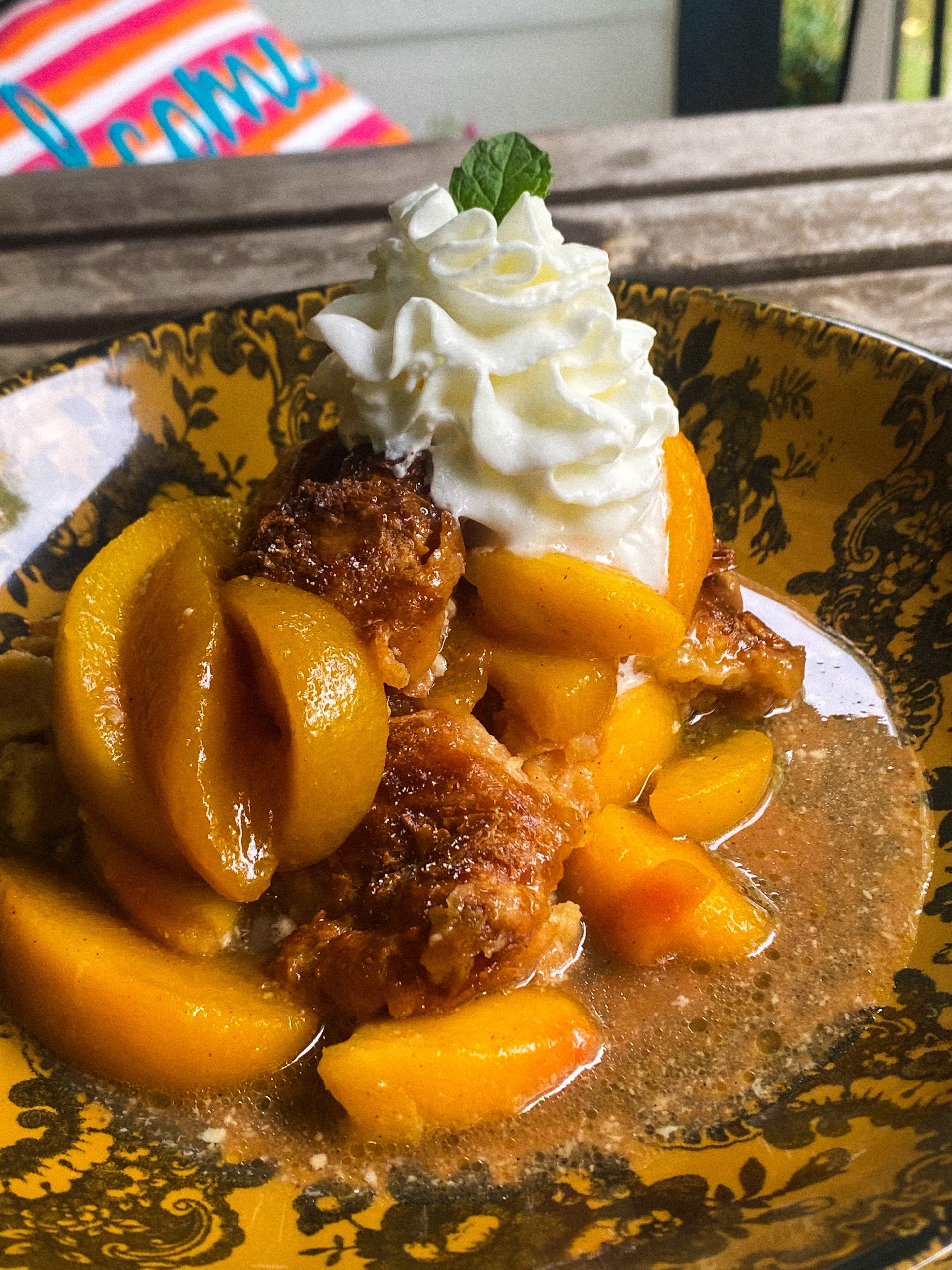 Buttery Peach Cobbler
Peaches
2 lbs Frozen sliced peaches
½ c granulated sugar
½ c brown sugar
¼ tsp nutmeg
1 ½ tsp cinnamon
1 ½ tsp vanilla bean paste
Pinch of salt
Peach Sauce
½ c unsalted butter
Zest of one lemon
1 cinnamon stick
½ c Peach schnapps
½ tsp corn starch
½ tsp water
Croissant Topping
6 croissants, torn in big pieces
3 eggs
¾ c half & half
¾ c heavy cream
1 tbsp maple syrup
¼ c granulated sugar
Preheat oven to 350 degrees
Start with your peaches! Mix all the ingredients together and place in your casserole dish. Let it sit while preparing the rest of the dish. Trust me, the sugar and peaches will create a wonderful juice that will be the base of your cobbler.
In a saucepan, add the butter, lemon zest, cinnamon stick, and peach schnapps. Let it steep over low heat for at least 15 minutes. In a separate bowl, stir the corn starch and water together to create a slurry. DO NOT ADD TO THE SAUCE, just yet.
Let's move on to the buttery croissant topping. In the same large bowl you mixed up the peaches whisk together the eggs, half & half, cream and maple syrup until custard is nice and smooth. Then add torn pieces of bread to the custard and let the croissants soak up all the richness of the custard.
While croissants are soaking, let's get back to our peach sauce. Turn the heat up to medium, remove the cinnamon stick and add slurry. Once sauce starts to thicken, remove it from the heat and pour it over the peaches. Next, add the soaked croissant pieces on top of the peaches. Once peaches have been covered with the croissant topping, sprinkle the top with the ¼ cup of sugar.
Place in over on 350 F for 75 minutes. The croissant topping should be crusty, the peaches tender, and thick juices flowing through the cobbler. Let it cool for at least 30 minutes before serving.
I served mine with a heaping pile of whipped cream, but my favorite way of serving is with butter pecan ice cream.